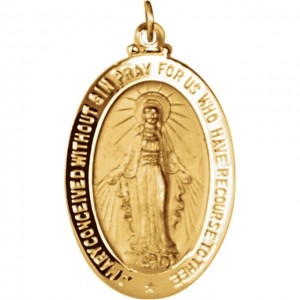 The Miraculous Medal is the most popular religious medal in the world, and for good reason: it comes from Heaven! CatholicShop.com offers thousands of Miraculous Medals, including 14K Gold, Sterling Silver and more.
Popular variations of the Miraculous Medal include:
Gold Miraculous Medals
Sterling Silver Miraculous Medals
White Gold Miraculous Medals
Gold-Filled Miraculous Medals
Colorful Miraculous Medals
Low-Price Miraculous Medals
Miraculous Medal Rosaries
Miraculous Medal Pins
Miraculous Medal Rings
Miraculous Medal Bracelets
Miraculous Rosary Centers
The Miraculous Medal was shown in a vision to St. Catherine Laboure in Paris, France by the Virgin Mary. St. Catherine was told by Mary that all who wore the Miraculous Medal would be given great graces.
The front of the medal features an image of Our Lady while the back features some of her symbols, including twelve stars and her Immaculate Heart pierced by a sword.
Shop for Miraculous Medals today.

CatholicShop Coupon Code - Get 10% off all religious items at CatholicShop.com.

CatholicShop.com Discount Code: CJNET72